Plan Your Dream Landscape with These Tips
So, you are tired of your back yard, the front needs more curb appeal, a patch of grass is struggling under the shade tree. It's time to revamp the outdoors with some new landscaping, but where do we start? For the best results of a long-lasting landscape and outdoor space, we need to put together an organized plan. A well thought out plan will ensure that the finished project will provide ample space for outdoor activities, create scenic views while out in the space as well as being framed from living room windows, and will grow to fill in space proportionally without requiring the digging and moving of any or numerous plants to a more suitable location.
Understand the Site
A detailed analysis of the site is essential in planning and determining the layout and use of outdoor space. Items to note are grade/topography, natural water runoff paths, shade and light conditions, existing elements, and space/size to name a few. The grade/topography of the area will affect the use of the space. Large, sloped areas may require a tiered retaining wall with steps to access space beyond the slope. Flatter areas provide more flexibility for formal gatherings, active play, and easier interaction with plants and gardening. Water runoff is an issue on every outdoor project, poor water runoff management can cause failure in retaining walls and damage to basements and other interior rooms when pooling or running too close to the foundation.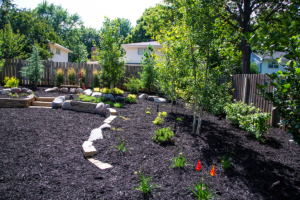 While managing water runoff is important to prevent damage. It can also be a functional and beautiful part of the landscape when used as a design element. We can collect it for reuse with a rain barrel attached to a downspout, or we can make it a focal point and control its path with decorative rock of a dry creek bed that is flanked by water-wise flowering plants suitable for rain gardens. The light conditions of a site not only affect whether grass can thrive or influence our plant selection, but it can also create a mood and influence how we use a space. Full sun exposure is full of opportunity, we can plant flowers of any color in the spectrum, it is inviting drawing us into open space to run and play, it activates us. Shade slows down, it provides areas of repose, of relaxation as it protects us from high summer heat or intense rays of the setting sun. Are there any pre-existing features that we want to incorporate into the new design or that we want to create some separation from? Perhaps there is a large oak tree that we want to be the centerpiece of the yard. Or maybe there is a neighboring building that we want to screen for privacy. How large is the site? What shape does the site have? Long and skinny? Is it symmetrical? The existing layout provides the parameters that we must design within. These are not limitations but guidelines and elements that can be accentuated with the proper plan.
Define the Use
Ultimately the use of a space is determined by the user. To get the proper outcome for the finished project we need to explore the desires of the user. How is the space currently being used? Is there a new use for the space that wants to be added or does the space need to be completely refigured for a new use? What do we want the final aesthetic of space to look like? How involved does the user want to be in maintaining the space? And most basic, but most importantly of all, what is the budget of the project? Just like the pre-existing conditions of the site, the budget is not seen as a limitation but as a guideline to help steer the design and ultimately the finished project to its desired state both functionally and aesthetically.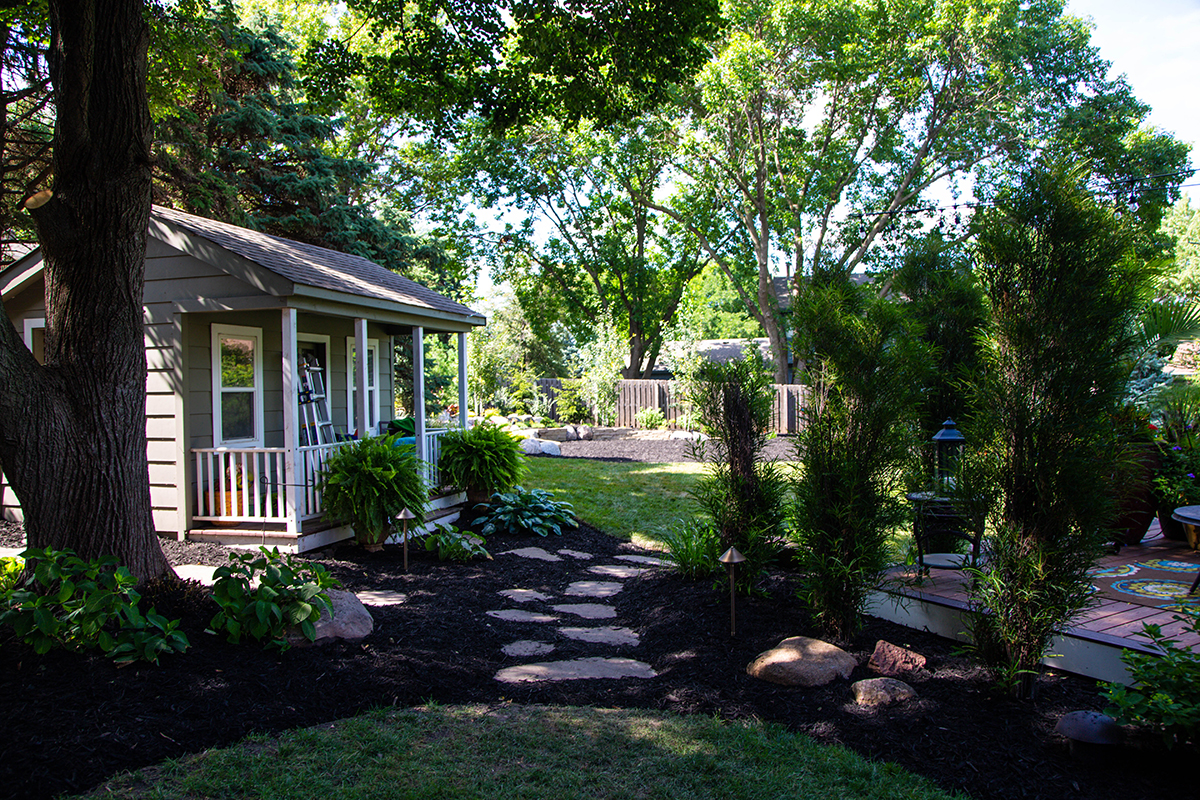 Create and Link Spaces
The outdoors is an extension of the home. Activities we participate in and our aesthetic style are reflected in how we arrange and structure outdoor spaces. Spaces are separated into sections by their function, their intended use. Spaces can be enclosed to be completely separated from others, or they can open and flow into each other to allow their use the be flexible and change with the season. These spaces can be defined in a variety of ways. First, there may be pre-existing parameters that help define or limit the outdoor space such as property lines, fencing, adjoining or adjacent buildings, power lines, hillsides, or large, established trees. All these factors create boundaries that we can work within to then define various spaces. Next, we can define a space by enclosing it. If the space wants privacy from beyond the boundaries, we can create a tall enclosure with a line of a columnar evergreen tree, solid shrub hedge, or structural wood screen. These tall enclosures wall off the space to keep it completely isolated leaving little connection or flow to the surrounding spaces. If the space does not want to be completely separated from adjacent spaces yet still clearly defined, we can create a short landscape bed that intersects the edge of the two spaces. The plants that comprise the landscape bed can range from low growing ground covers to medium-size shrubs and grasses. Shade trees with an elevated canopy can create a strong barrier that allows air and line of sight to pass through the landscape bed to link the spaces together. Finally, spaces can be defined through change ground material and texture. Paver patios define formal outdoor dining and entertaining spaces in contrast to turf grass play areas. Flagstone cutting through landscape bed define pathways, areas of transition, to get from space to space. The placement of every plant is as intentional as the placement and layout of the landscape bed themselves as they create and define how outdoor spaces flow and interact with other spaces.
By accounting for all existing conditions, future needs and uses, and how spaces will or will not interact with other spaces will create solid building blocks in the framing of a well-organized plan that will make its implementation into the ground a smooth and easy transition.